Description
Brand Introduction:
A concentrate of technology, innovation and application techniques for those who demand the maximum for the maintenance and protection of their vehicle: this is #Labocosmetica, a very high quality program made up of specific products for Car Detailing, the innovative discipline able to restore their splendor to all surfaces and protect them over time.
Born from the deep passion that has always linked the company to the world of car maintenance, the #Labocosmetica line was created to meet the requirements of professional detailers, until nowadays it has become a point of reference for international scale for all enthusiasts.
#Labocosmetica products are developed in the company's Research and DevelopmentLaboratories and are all made in Italy. The close collaboration with professional Detailers has made it possible to create a range able to optimize treatment times while always guaranteeing an excellent finish in each of the 5 phases that guarantee the Detailing process: Washing, Decontamination, Polishing, Protection and Maintenance.
OFFICIAL PARTNER OF SUPERCAR OWNER CIRCLE (SOC):
Product Description
Glycolic acid based fabric cleaner
#GLICO thanks to its formula with glycolic acid, the same used for personal cosmetics, is an innovative product. It is the first in its class to be patented, ideal for removing inorganic residues, minerals, dust and mixed dirt stains from seats and rugs.
#GLICO is delicate on the treated surfaces, does not leave unwanted residues, restores color and softness to the fibers (Fluffy Effect) and leaves a perfect finish. Its distinctive feature is the Luminol effect: during dispensing, #GLICO acts as a highlighter to detect spots not visible to sight, facilitating the removal work.
Complementary: eliminates dirt that an APC cannot remove;
Patented formula with Luminol effect, highlights spots not visible to the naked eye and allows the detailer to proceed with the correct specific pre-treatment;
Eliminates surfactant residues and halos resulting from washing the upholstery with alkaline detergents;
Unbeatable for removing post-rain seat stains or streaks caused by wet clothing (such as wet swimwear);
Eliminates inorganic residues, minerals such as salt from rubber or car fabric mats, dust and mixed dirt stains
Due to its rapid drying of the fabric it is ideal for maintenance cleaning;
Work times halved thanks to the 2pH® cycle with #Ductile;
It gives the fabric a renewed color and softness (Fluffy effect);Safe on plastics, rubber and metals;
It does not require stain pre-treatment;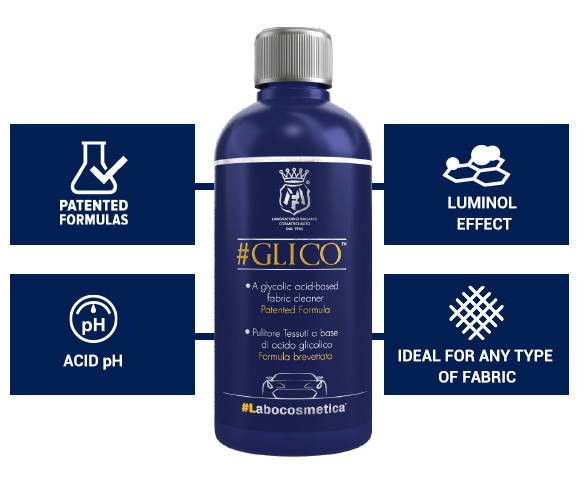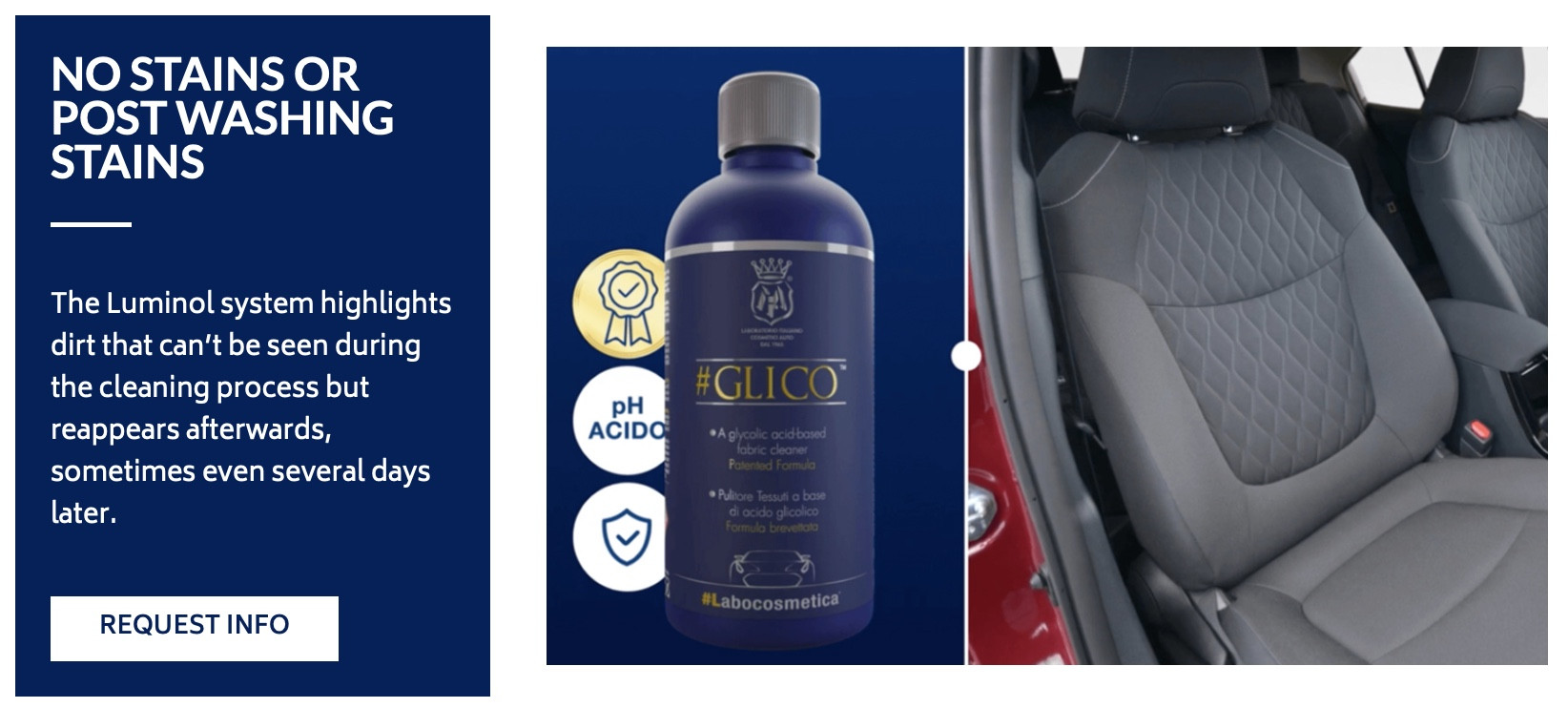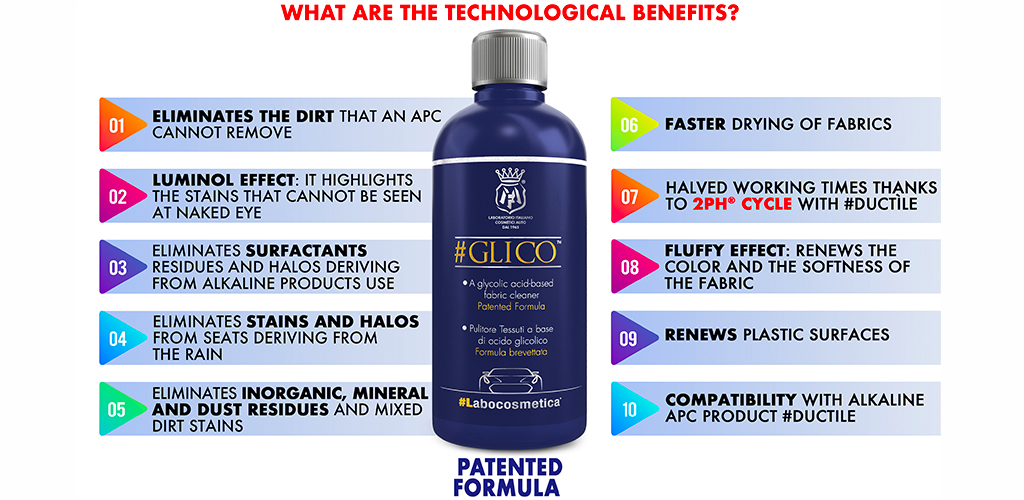 Thanks to #GLICO's Luminol effect, the detailer is able to take stock of the actual condition of the surface and take appropriate action, focusing their attention on the areas that need to be treated.
Much in the same way that an iron remover highlights iron contamination by turning it red when #GLICO comes into contact with unseen inorganic substances it reacts and foams.
It does not leave residue, marks or streaks

High cleaning capacity

High lubrication
On the side you will find a table to make the most of the products and get a shiny interior!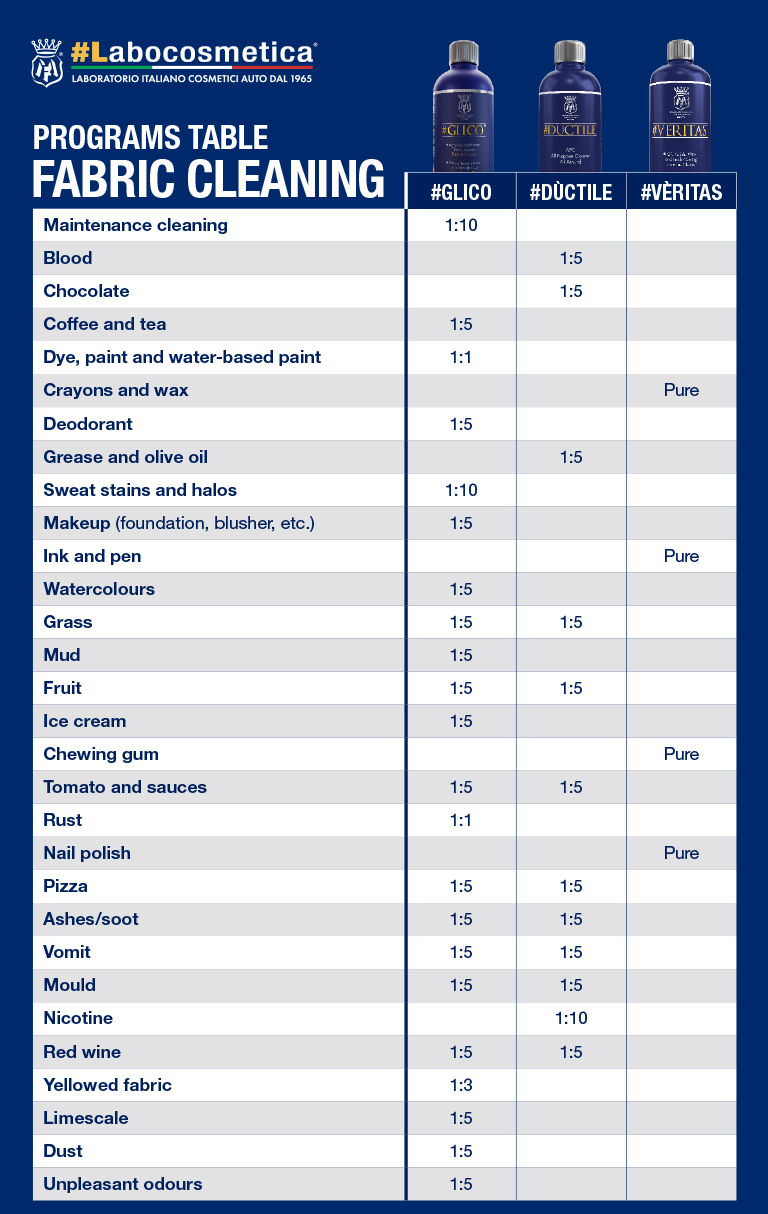 Instruction For Use:
Use as "Stand Alone" and for Maintenance:
Dilute #GLICO 1:10, spray and brush theentire surface to be treated. Leave to work for 2-3 minutes, then wipe with a clean microfiber cloth before vacuuming the treated surface.
"COMBO" use for the cleaning of particularly dirty upholstery:
Dilute #GLICO 1:5, spray and brush the entire surface to be treated, and leave to work for 2-3 minutes.
Without rinsing next spray #DUCTILE 1:10 dilution, and brush the surface.
Vacuum where saponification occurson the treated surface and complete the process by rinsing with a traditional injection-extractionor steam cleaner or a damp cloth
For the cleaning of brushes and making the bristles soft again, leave them to soak in #GLICO 1:5 dilution for about one hour.
In case of overspray, the product is safe on any material(Alcantara®, plastic, leather, metal, carbon, Kevlar)
It can also be used during traditional cleaning as the final rinsing step, as a 1:50 dilution, to remove the alkaline surfactants used previously.
Video:
CERTIFICATION:
3 TUV Certifications
Labocosmetica is the only company in the sector having 3 certifications, as below:
TUV 9001 (Process and Organization)
TUV 14001 (Environment Friendly)
TUV 18001 (Product Security)
VDA Certification
LaboCosmetica is the first in the world to be certified from a German Bureau, declaring that the products are safe and they do not damage the surfaces.
PFAS Free
LaboCosmetica is the only producer declaring the products are without PFAS.
What is PFAS?
PFAS is a persistent harmful chemicals exist in many products, that can lead to adverse human health effects, such as:
Low infant birth weights,
Effects on the immune system,
Cancer (for PFOA), and
Thyroid hormone disruption (for PFOS).
OMNIA 2.0 and DERMA CLEANER 2.0 Certification:
EN 1276 - Chemical disinfectants and anti-septics - Bactericidal activity
EN 13697 - Chemical disinfectants and anti-septics - Bactericidal Activity - Without mechanical action
EN 14476 - Chemical disinfectants and anti-septics - Virucidal Activity in the medical area
Payment & Security
Your payment information is processed securely. We do not store credit card details nor have access to your credit card information.