Description
Brand Introduction:
Since 1965 Mafra has the aim to enhance and protect with great passion the international automotive heritage; this is possible by applying the maximum expression of Made in Italy to cosmetics for cars.
Thanks to its manufacturer experience and its forefront Research Laboratories, Mafra combines perfectly high level quality and technology standards through artisanal production methods that allow excellent final results.
The history of Mafra has its roots in the distant half of the sixties. The entrepreneurial instincts of its founder, Gianfranco Mattioli, suggested him to transfer the principles of human cosmetics in a totally new field: so was born the famous slogan "cosmetics for your car."
What was called cosmetics at that time, is today called detailing.
This is why, from this insight and more than half a century later, his descendants have given rise to the Labocosmetica line: a great concentrated of technology, innovation and tradition dedicated to those who demand the most for treatment of his car.
OFFICIAL PARTNER OF SUPERCAR OWNER CIRCLE (SOC):
Product Description
High safety foam prewash for cars and motorcycles

•#PRÌMUS is the first prewash in the detailing sector to have obtained VDA certification, a German independent body  that certifies the compatibility of chemicals on the most delicate car and motorcycle materials. In fact, #PRÌMUS is an alkaline detergent free of caustic salts. It maintains its excellent qualities in complete safety on any paint and material, even the most delicate on sports cars and motorcycles.
•#PRÌMUS has a detergent power and a high degree of safety in its category. Easily removes gnats, resins, road dirt even the most stubborn, without mechanical action.
•#PRÌMUS is very versatile in the various dilutions of use: it can clean rims, wheel arcs and the most delicate parts of the bodywork. With the use of a foam gun, it creates an adherent, compact and wet foam that allows dirt to dissolve quickly as well as easy rinsing.
•Moreover, thanks to its low evaporation characteristics, it can be applied also on normal spray dispensers,  avoiding annoying residue of dried product in the drying phase.
•Thanks to its special formula, #PRÌMUS can be used without problems on surfaces treated with waxes, sealants or coatings. #PRÌMUS was researched and developed by Mafra laboratories and was thoroughly tested in cooperation with the most prestigious sports car makers worldwide.
Instruction For Use:
DILUTION WITH DISPENSER:
for the cleaning of rims and tyres dilution 1:3 to 1:10; for the cleaning of the lower sides of the vehicle, rails and bumpers or to remove gnats dilution 1:20; for the cleaning of very dirty vehicles dilution 1:50 dispensing the product from the bottom upwards; for washing of medium-dirty vehicles dilution 1:80, dispensing the product from the bottom upwards; for frequent washing dilution 1:100.
DISPENSING WITH THE FOAM GUN SYSTEM:
in this case, it is advisable to respect the normal dilutions, obtaining the output delivery as those recommended with the spray dispenser described above. The final dilution varies according to the high-pressure water cleaner used. We generally recommend diluting #PRÌMUS 1: 5 for winter dirt, 1:10 for summer dirt and for weekly washing. After application wait a few minutes and rinse with high pressure.
Video:
3PH Cycle Invention
This product is part of the LaboCosmetica patented technology "3PH Detailing Wash" product.
LaboCosmetica 3PH Wash System (Registered Trademark) was created to help car owner in one of the most important phase of car detailing, both on protected or on a unprotected car.
3PH Detailing Wash System eliminates and purifies your car paintwork, by removing all types of dirt and contamination that turn your car paint work colour off and dull look. If your car has been coated with reputable car coating, such as ceramic coating, Labocosmetica 3PH Detailing Wash will bring back the water beading and water sheeting performances and protection on your car, previously applied.
LaboCosmetica 3PH Detailing Wash Steps:
Step 1 - PRIMUS
Step 2 - PURIFICA
Step 3 - SEMPER or REVITAX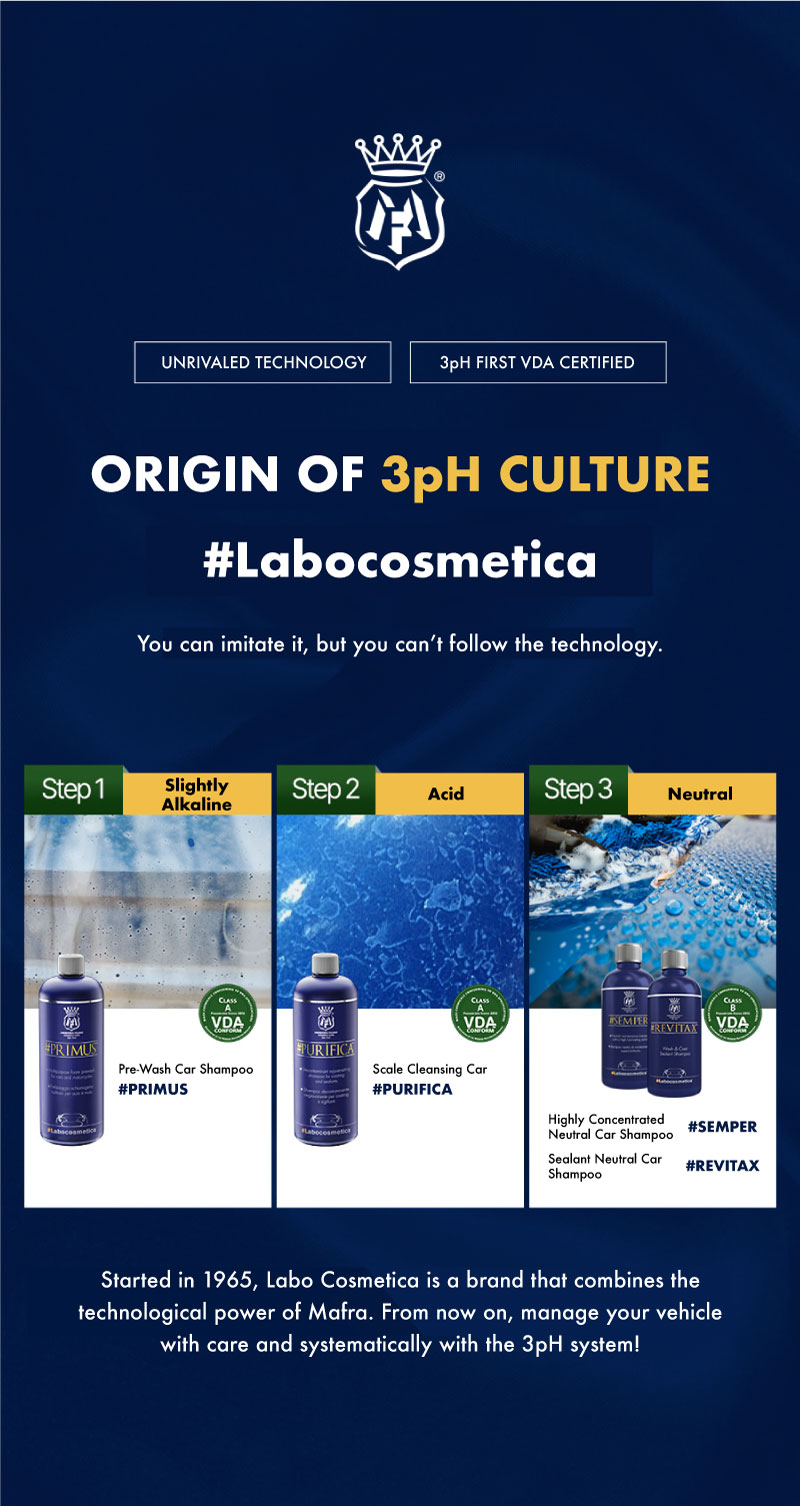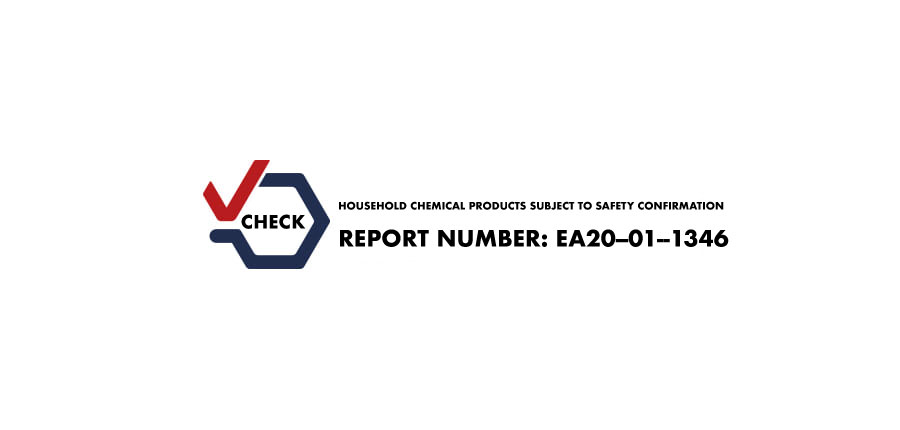 Video:
CERTIFICATION:
3 TUV Certifications
Labocosmetica is the only company in the sector having 3 certifications, as below:
TUV 9001 (Process and Organization)
TUV 14001 (Environment Friendly)
TUV 18001 (Product Security)
VDA Certification
LaboCosmetica is the first in the world to be certified from a German Bureau, declaring that the products are safe and they do not damage the surfaces.
PFAS Free
LaboCosmetica is the only producer declaring the products are without PFAS.
What is PFAS?
PFAS is a persistent harmful chemicals exist in many products, that can lead to adverse human health effects, such as:
Low infant birth weights,
Effects on the immune system,
Cancer (for PFOA), and
Thyroid hormone disruption (for PFOS).
OMNIA 2.0 and DERMA CLEANER 2.0 Certification:
EN 1276 - Chemical disinfectants and anti-septics - Bactericidal activity
EN 13697 - Chemical disinfectants and anti-septics - Bactericidal Activity - Without mechanical action
EN 14476 - Chemical disinfectants and anti-septics - Virucidal Activity in the medical area
Payment & Security
Your payment information is processed securely. We do not store credit card details nor have access to your credit card information.