Description
Brand Introduction:
Since 1965 Mafra has the aim to enhance and protect with great passion the international automotive heritage; this is possible by applying the maximum expression of Made in Italy to cosmetics for cars.
Thanks to its manufacturer experience and its forefront Research Laboratories, Mafra combines perfectly high level quality and technology standards through artisanal production methods that allow excellent final results.
The history of Mafra has its roots in the distant half of the sixties. The entrepreneurial instincts of its founder, Gianfranco Mattioli, suggested him to transfer the principles of human cosmetics in a totally new field: so was born the famous slogan "cosmetics for your car."
What was called cosmetics at that time, is today called detailing.
This is why, from this insight and more than half a century later, his descendants have given rise to the Labocosmetica line: a great concentrated of technology, innovation and tradition dedicated to those who demand the most for treatment of his car.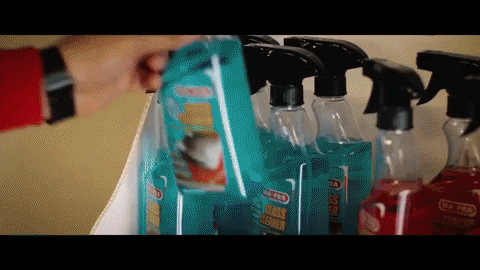 Product Introduction:
Unbeatable in dry cleaning. 
For the dry cleaning of the car MA-FRA has studied a product for a complete external cleaning. From the bodywork to the windows, here is Fast Cleaner , a quick cleaner that instantly removes any dirt or stain. 
Fast Cleaner guarantees maximum delicacy on the paint of your car, thanks to a triple effect :
1 -  anti-rain , which makes the rain slide off without traces on the bodywork;
2 -  anti-dirty , creates a layer that prevents dirt and dust from taking root;
3 -  anti-fingerprint , prevents unsightly fingerprints on the car.
Thanks to its special formula without silicones , Fast Cleaner acts by bringing the dirt into suspension so as to facilitate its removal without leaving streaks. Furthermore, being free of abrasives, it guarantees maximum safety on any type of surface.
Eliminates surface dirt, excrement and insects

Hyperlubricated for safe dry cleaning

Decontaminate with claybar

Preserves the wax: protected and shiny bodywork

Hydrophobic polymers for the water-repellent and anti-fingerprint effect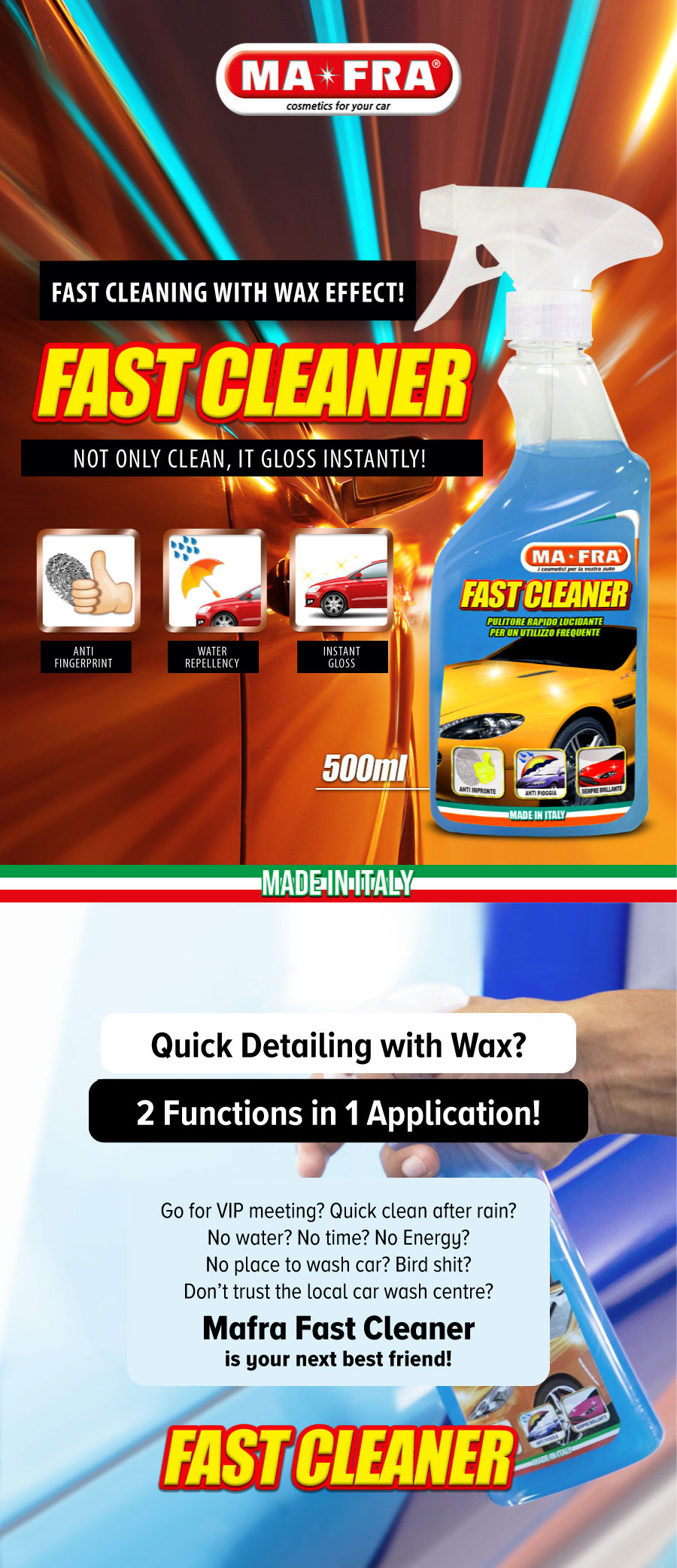 How to use:
Step 1: Spray the product evenly on the part to be treated at a distance of about 20cm to 30cm.
Step 2: Use microfibre cloth applying horizontal movements, until completely dry; you will thus eliminate any excess product.
Fast Cleaner can also be used as Clay Lube , a  lubricant for Clay Bar during the mechanical decontamination phase of the bodywork . Fast Cleaner, thanks to its lubricating power, will increase the smoothness of the Clay Bar on glass and bodywork, removing the anchored dirt particles and making the surface smooth and ready for the subsequent polishing phase.
We recommend that you always keep  Fast Cleaner in the trunk of your car, a unique product against daily inconveniences . 
Thanks to its winning, silicone-free formula, keeps your car free of dust and fingerprints, renews colour and prolongs the duration of the wax, protecting the car over time.
Thanks to its refined "water drop speed" technology, FAST CLEANER also guarantees a long lasting, water repellent effect on the windows and body of the car, offering you a safer drive.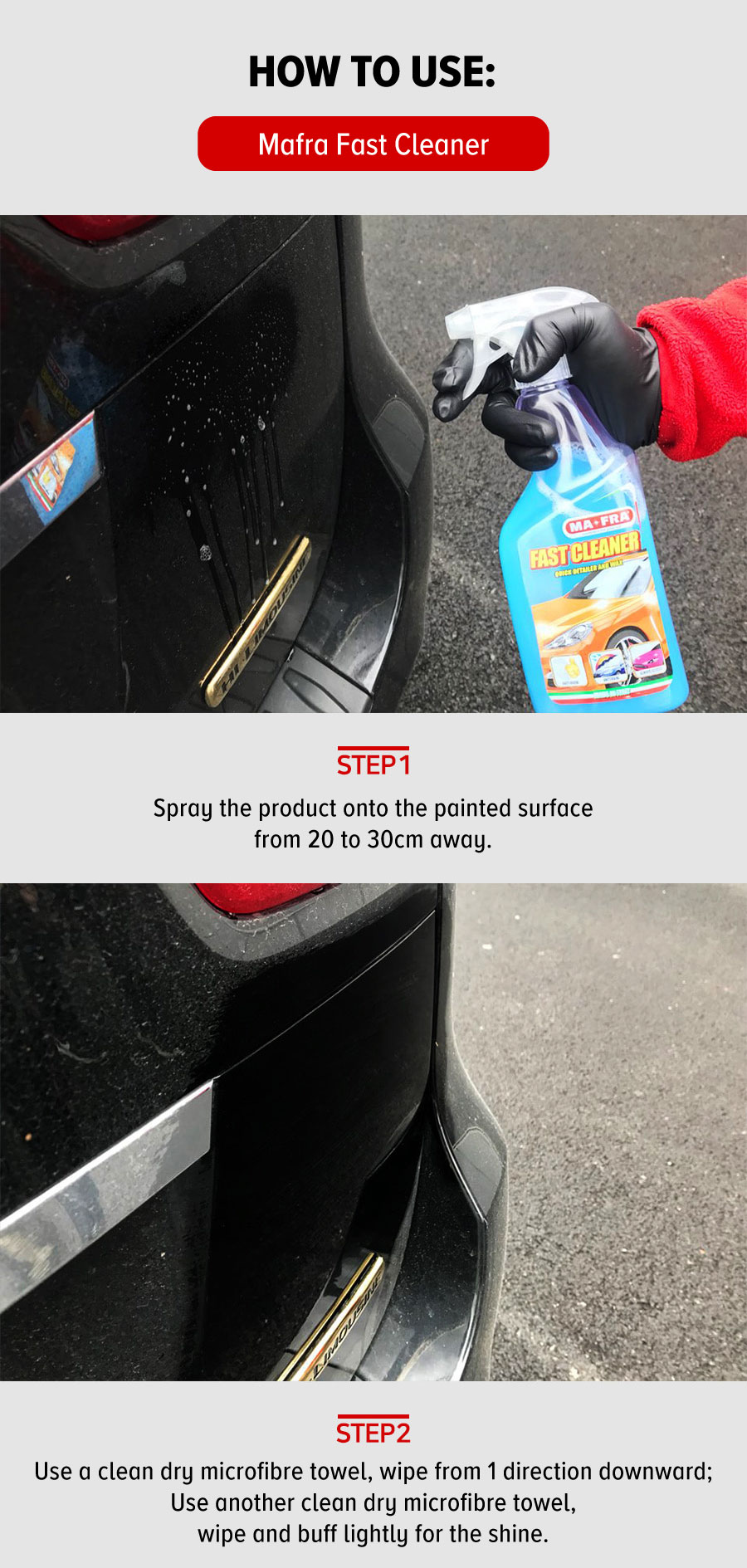 Video:
Payment & Security
Your payment information is processed securely. We do not store credit card details nor have access to your credit card information.