Description
Brand Introduction:
Maniac Line is the Capsule Line, produced by Mafra, Made is Italy.
They are made for the enthusiasts who are genuine dissatisfied with existing products in the market, who wants a high performance, high-tech and quality product line.
Maniac respect the passion and pursue the extreme and perfect details, and always follow their passion.
For the enthusiasts, car washing is probably one the thing that gives them a sense of fulfilment in life, beyond hobby or a job.
Maniac always support the true passion!
DETAILING MADE EASY!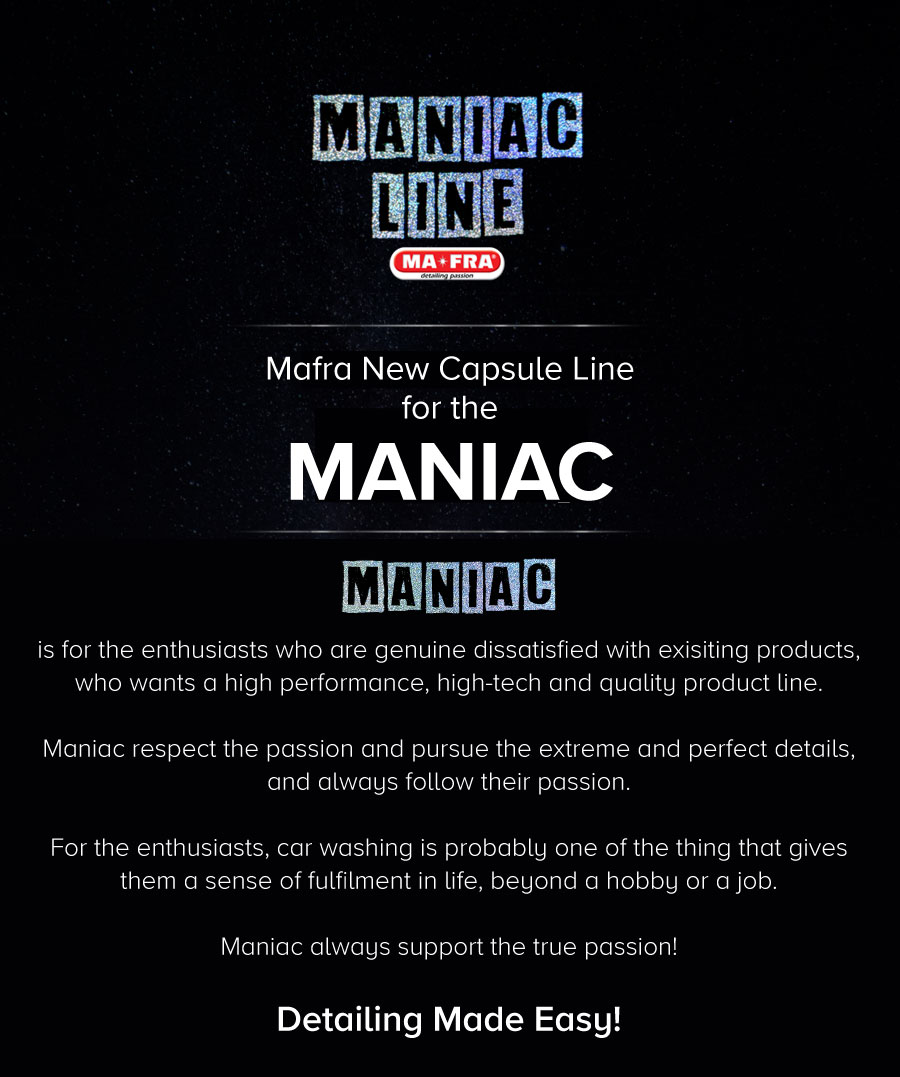 Product Introduction:
Alcantara® Cleaner from Mafra 's Maniac Line is a specific cleaner approved by Alcantara® ready to use.
The product has an innovative formula that allows to penetrate and permanently eliminate dirt even on localized stains.
Alcantara® Cleaner is VOC Free, has a fresh clean scent with an effective anti-odor action which makes it ideal for cleaning the entire passenger compartment.
How To Use:
Before cleaning with Alcantara Cleaner it is essential to carry out a thorough vacuuming.
Dilute the product 1: 1;
Spray the product evenly on small areas;
Do not overdo the dispensing to avoid wetting the surface;
Work the product with a soft bristle brush;
Move the brush in circular movements and pay attention to the areas where there are spots and halos;
Remove dirt with a clean, dry microfibre cloth by exerting light pressure
RECOMMENDATIONS:
After the usual and careful vacuuming of the dust present, make sure you have removed any residue of dirt to avoid subsequent halos during the drying phase.
Treat small areas at a time and do not overdo the dispensing of the product , it is not necessary to excessively wet the surfaces, let the product act and work it with a soft bristle brush.
The product is free from volatile solvents or alcohol.
VIDEO:
Payment & Security
Your payment information is processed securely. We do not store credit card details nor have access to your credit card information.