Description
Brand Introduction:
Mafra, a renowned Italian Company since year 1965. The official supplier and partners of world renowned automobile most luxury sports cars such as Lamborghini and Maserati. Mafra is as well the only selected official partner with some of the most prestigious car clubs in the world, such as Supercar Owners Circle, taking care of the club member's highly sought after vintage cars to their limited edition supercars.
Whether you are a everyday commuter car owners, car maniac, car enthusiast, vintage car collectors or luxury supercar owners, with Mafra, the cosmetic for your car, you have your car care covered.
Product Introduction:
The top in cleaning seats and upholstery.
The 3in1 Fabric Treatment is the ideal solution for cleaning the seats and upholstery of your car . In recent years,  we have studied a highly performing and easy-to-apply product , valid both for detailing professionals and for "do-it-yourself" lovers. 
Our  3in1 Fabric Treatment  - with active detergent formula - has the characteristic of not wetting or dampening the fabric too much, so as not to create that unpleasant humidity effect that sometimes occurs in the application of other products, especially when the dosage is exceeded. 
Able to perfectly remove the stains from the upholstery of your passenger compartment, carpets and rugs, the  3in1 Fabric Treatment is also able to completely renew your seats both in fabric and in Alcantara.
In a few simple steps, get the footboard behind the wheel, with this product the interior of your car will be as good as new!
Cleans velvets, alcantara and delicate fabrics

Renew the colors

Removes fibers with active foam

Fresh note of perfume

Avoid halos: vacuum carefully before use and do not wet the sponge under the fabric with excess product
How to use:
After the usual 

 vacuuming of the dust present

 , make sure you have removed any residual dirt to avoid the formation of subsequent halos during the drying phase;

Spray 

 the product from a distance of about 20cm 

 evenly

  and 

 in small doses

  over the entire surface to be treated (backrest or seat), without exceeding in use;
Spread the foam evenly 

 using a clean microfibre cloth

  or a soft bristle brush;
Distribute the product covering every visible space of the fabric, making  

linear

 , not circular movements;
Pay particular  

attention

  to the points where there are any  

stains or halos

 ;

Remove the excess product and 

 

dry

  with a second clean microfibre cloth, making sure that everything is perfectly clean and dry;
Proceed in this way  

working on the entire surface

 , not just on the stain or portion of the fabric.
It is advisable to use the  3in1 Fabric Treatment periodically, so that the interior of your car can always be as new and pleasantly scented.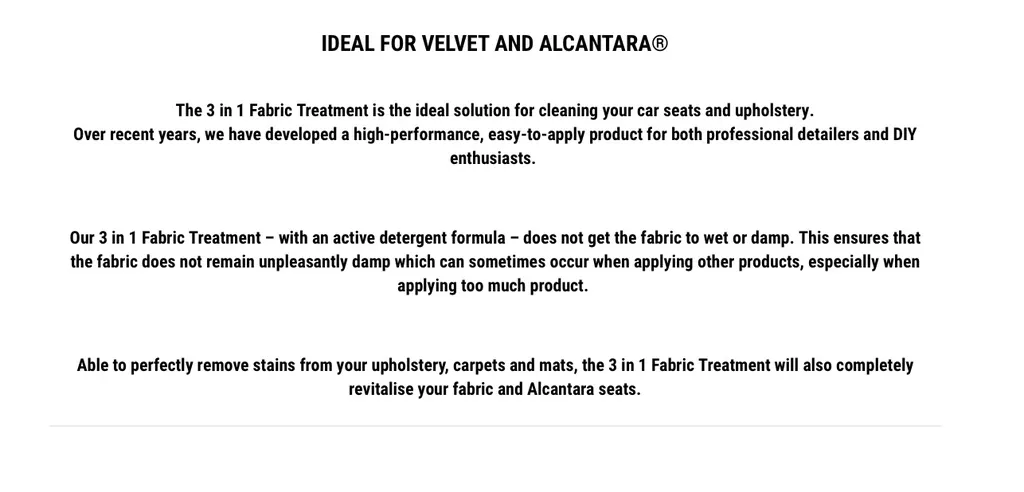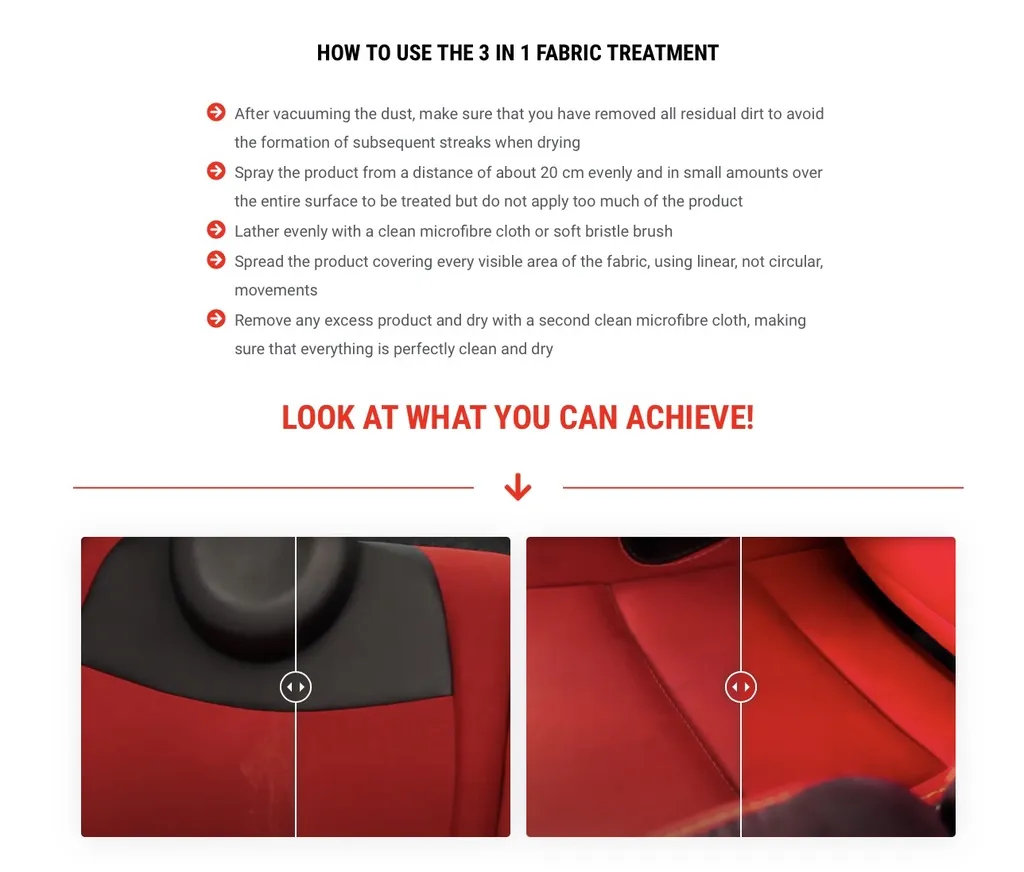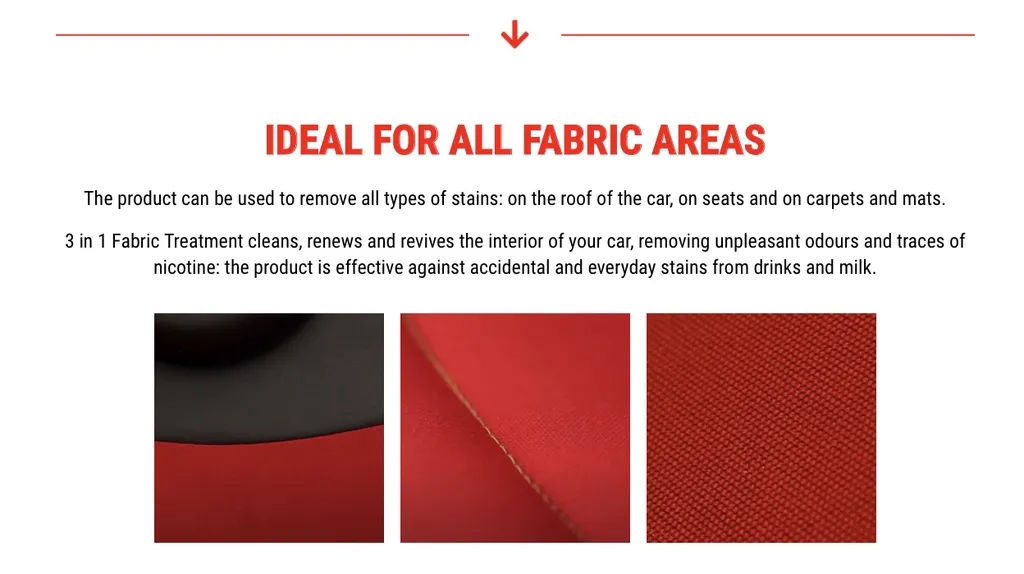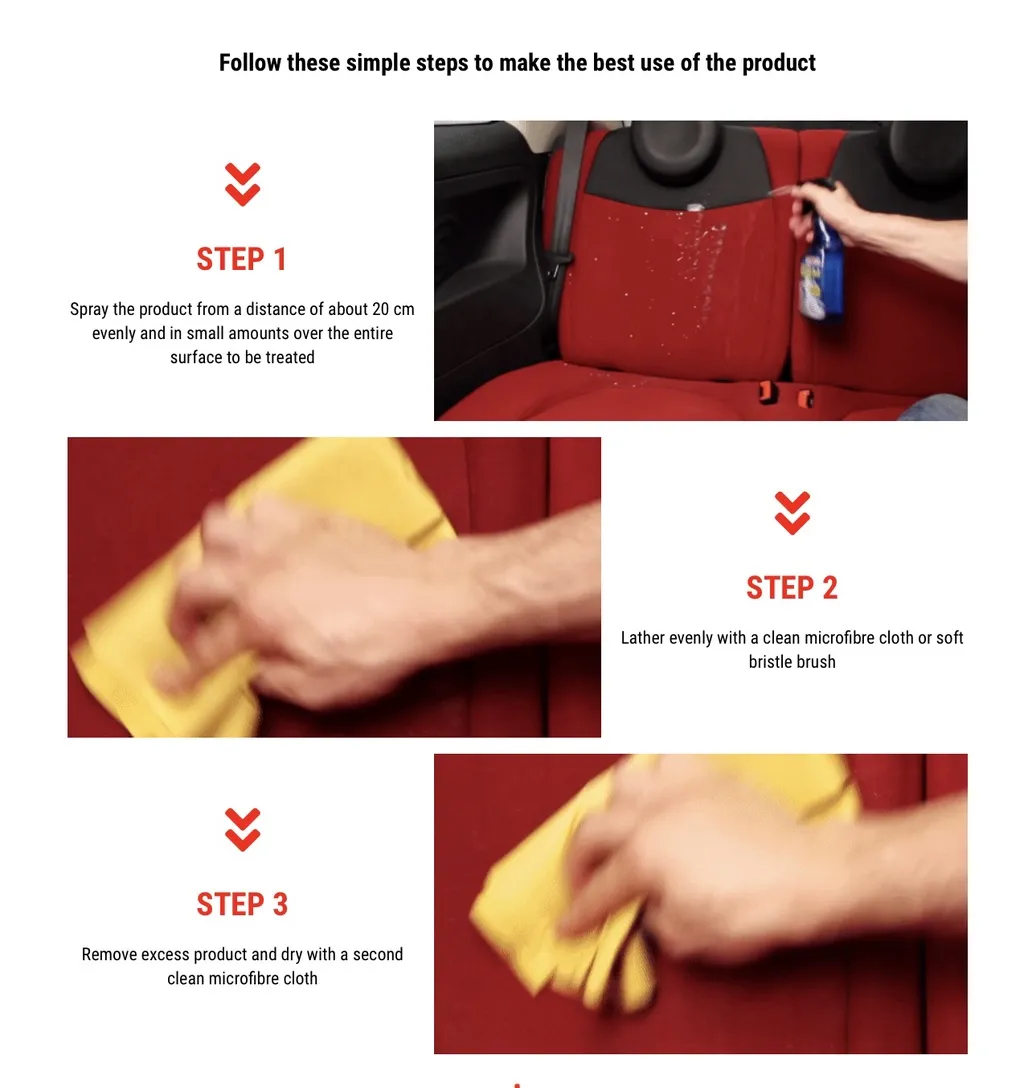 Video:
Payment & Security
Your payment information is processed securely. We do not store credit card details nor have access to your credit card information.