Description
Brand Introduction:
Maniac Line is the Capsule Line, produced by Mafra, Made is Italy.
They are made for the enthusiasts who are genuine dissatisfied with existing products in the market, who wants a high performance, high-tech and quality product line.
Maniac respect the passion and pursue the extreme and perfect details, and always follow their passion.
For the enthusiasts, car washing is probably one the thing that gives them a sense of fulfilment in life, beyond hobby or a job.
Maniac always support the true passion!
DETAILING MADE EASY!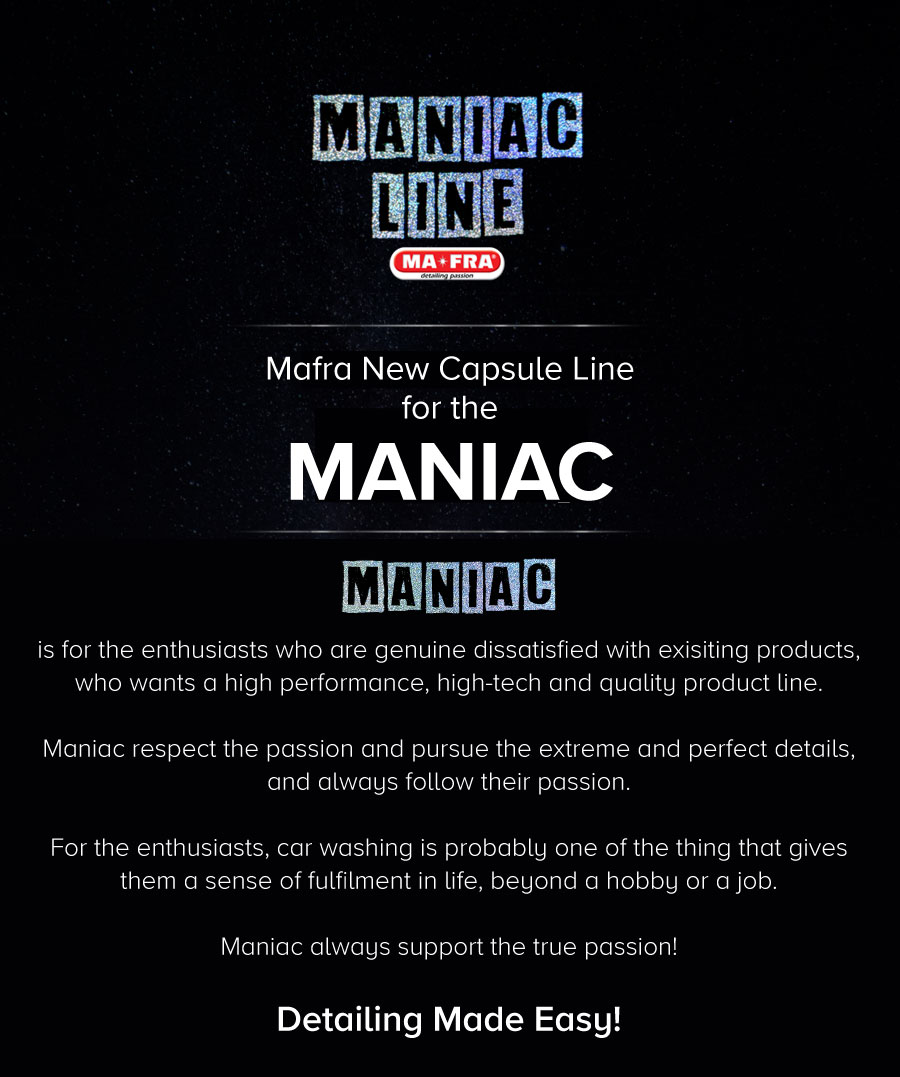 Product Introduction:
APC - All Purpose Cleaner from Mafra's Maniac Line ™ is a multi-surface cleaner designed to dissolve the most stubborn dirt while respecting any type of surface without leaving streaks.
Thanks to the great versatility of the product, it will be possible to broaden its spectrum of action by using it for both indoor and outdoor cleaning .
APC is ideal for cleaning wheels, engine compartment, fabrics, carpets, plastics and for possible stains caused by midges .
Once applied, it instantly neutralizes unpleasant odors.
Depending on the surface to be worked , different dilutions of the product are recommended.
Dilute 1: 5 for cleaning car interiors (cleaning fabrics, plastics and carpets);
Dilute from 1: 1 to 1: 3   for cleaning the exterior of the car (cleaning rims and engine compartment);
Dilute 1:20 for pre-washing and elimianre insects on the body and windshield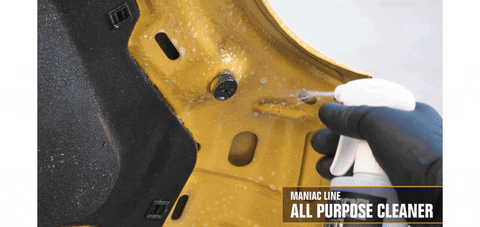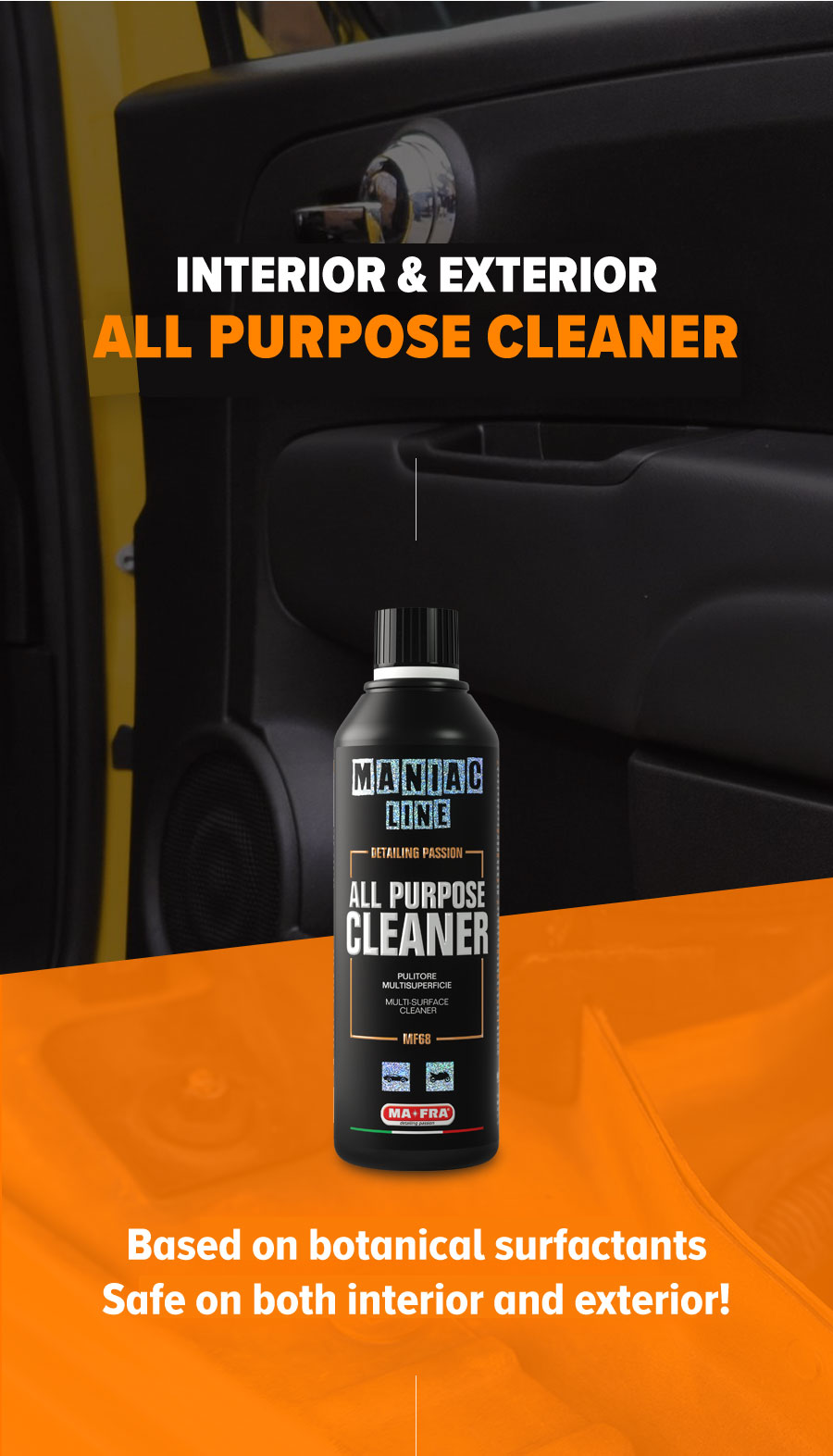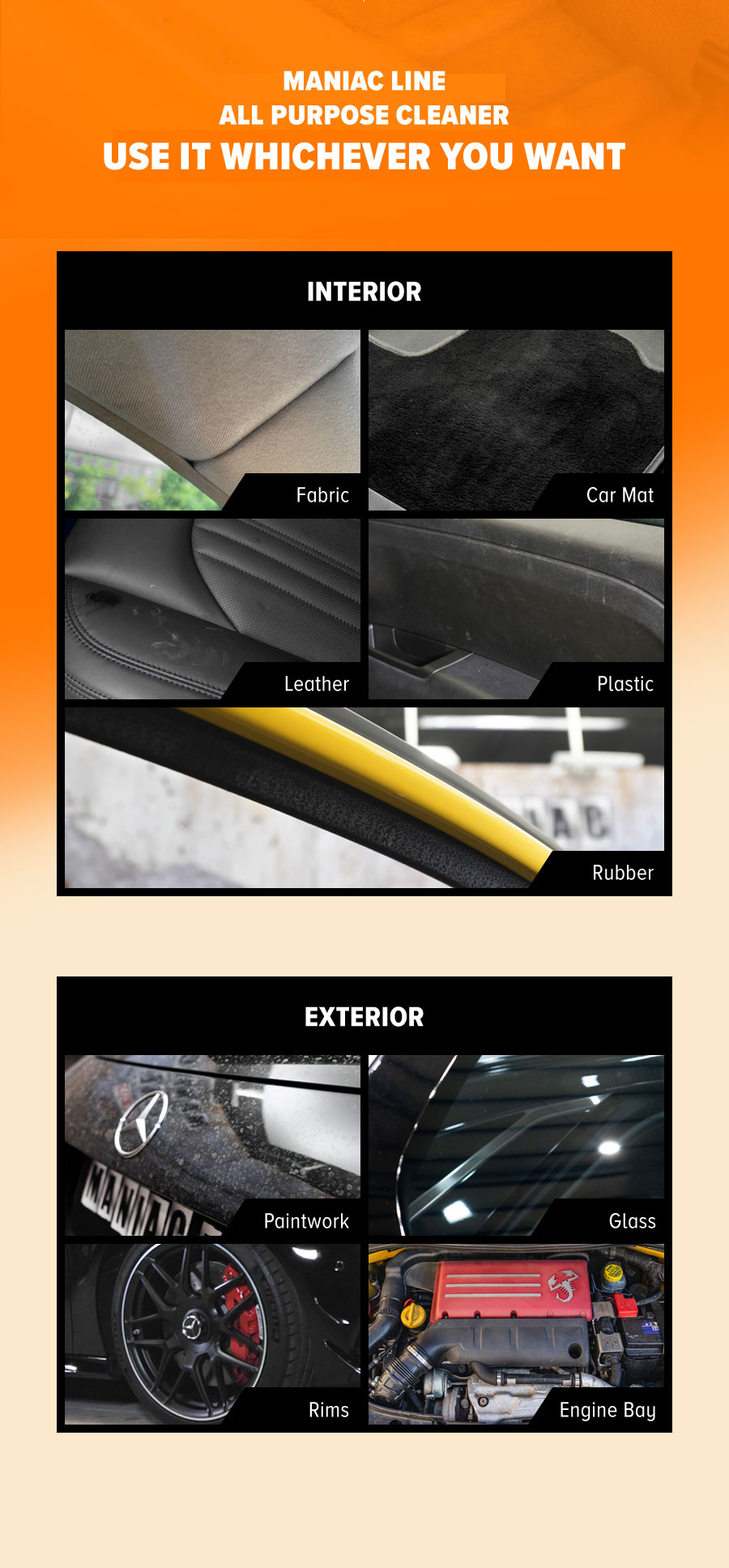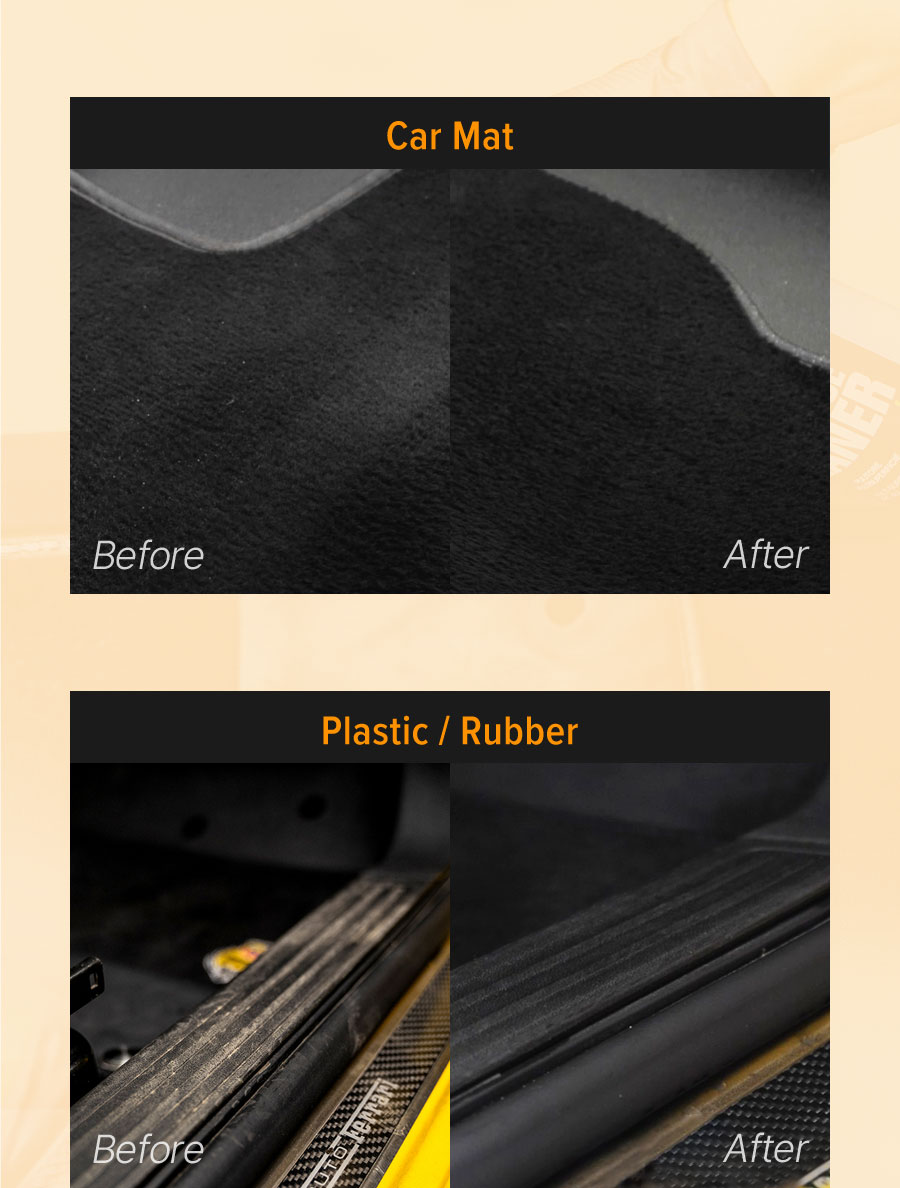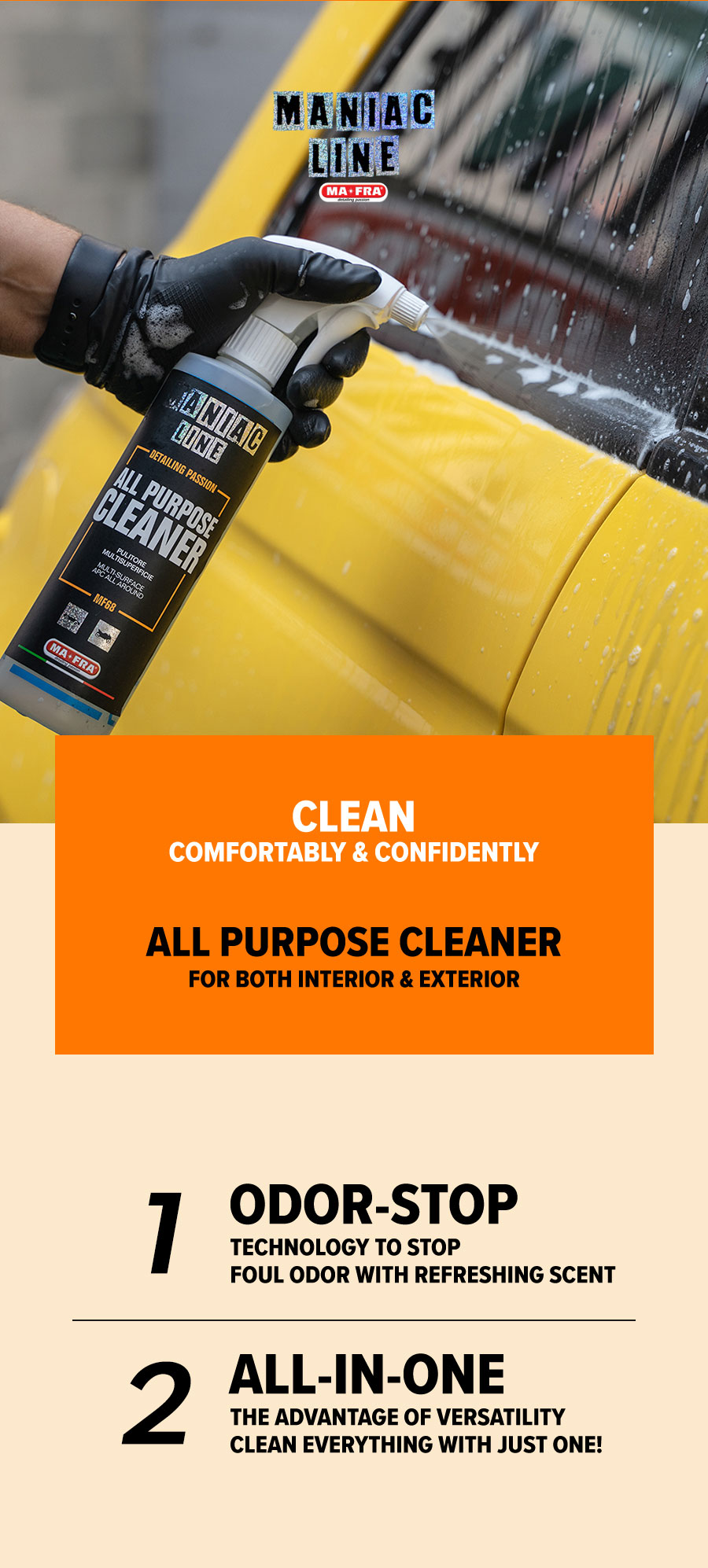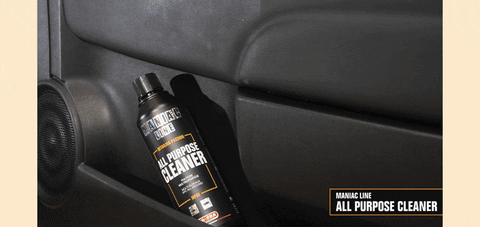 HOW TO USE:
- Car interior cleaning:
Dilute the product following the previously recommended dilutions;
Apply the solution on the surface to be treated evenly;
Perform a mechanical action with a  brush or soft bristle brush until foam is formed. 
Remove the foam  with the help of a microfiber cloth;
Dry with a clean microfibre cloth.
-Rims and engine cleaning:
Dilute the product  following the previously recommended dilutions;
Dispense on the surface at a distance of about 20cm from the surface to be treated;
Spread the product with a soft bristle brush;
Leave for a few minutes;
For rims, rinse with a pressure washer;
For the engine compartment, remove the product with a microfiber cloth.
RECOMMENDATIONS:
Do not use the product in the sun and do not let it dry. For interior use, it is recommended to remove dirt to avoid the creation of halos on fabrics during the drying phase. Respect the recommended dilutions.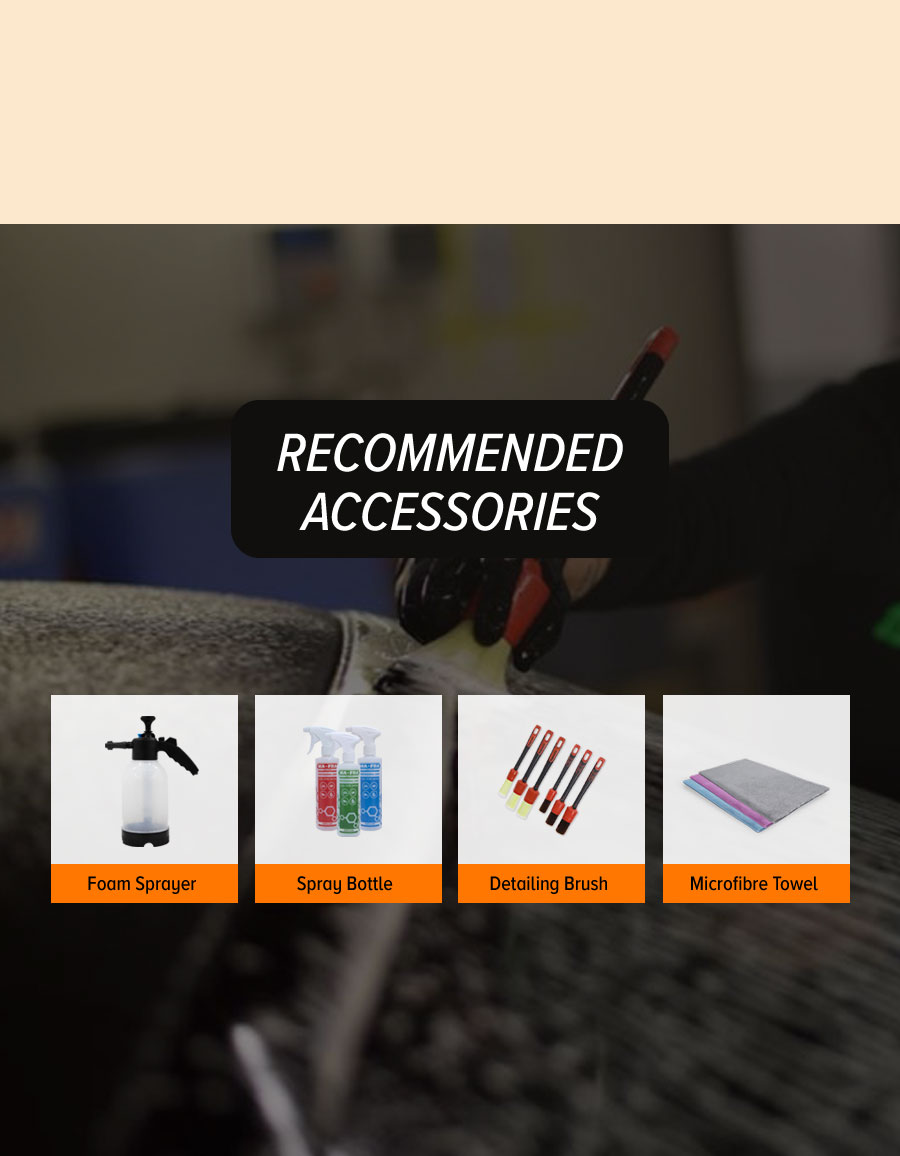 VIDEO:
Payment & Security
Your payment information is processed securely. We do not store credit card details nor have access to your credit card information.