Description
Brand Introduction:
Maniac Line is the Capsule Line, produced by Mafra, Made is Italy.
They are made for the enthusiasts who are genuine dissatisfied with existing products in the market, who wants a high performance, high-tech and quality product line.
Maniac respect the passion and pursue the extreme and perfect details, and always follow their passion.
For the enthusiasts, car washing is probably one the thing that gives them a sense of fulfilment in life, beyond hobby or a job.
Maniac always support the true passion!
DETAILING MADE EASY!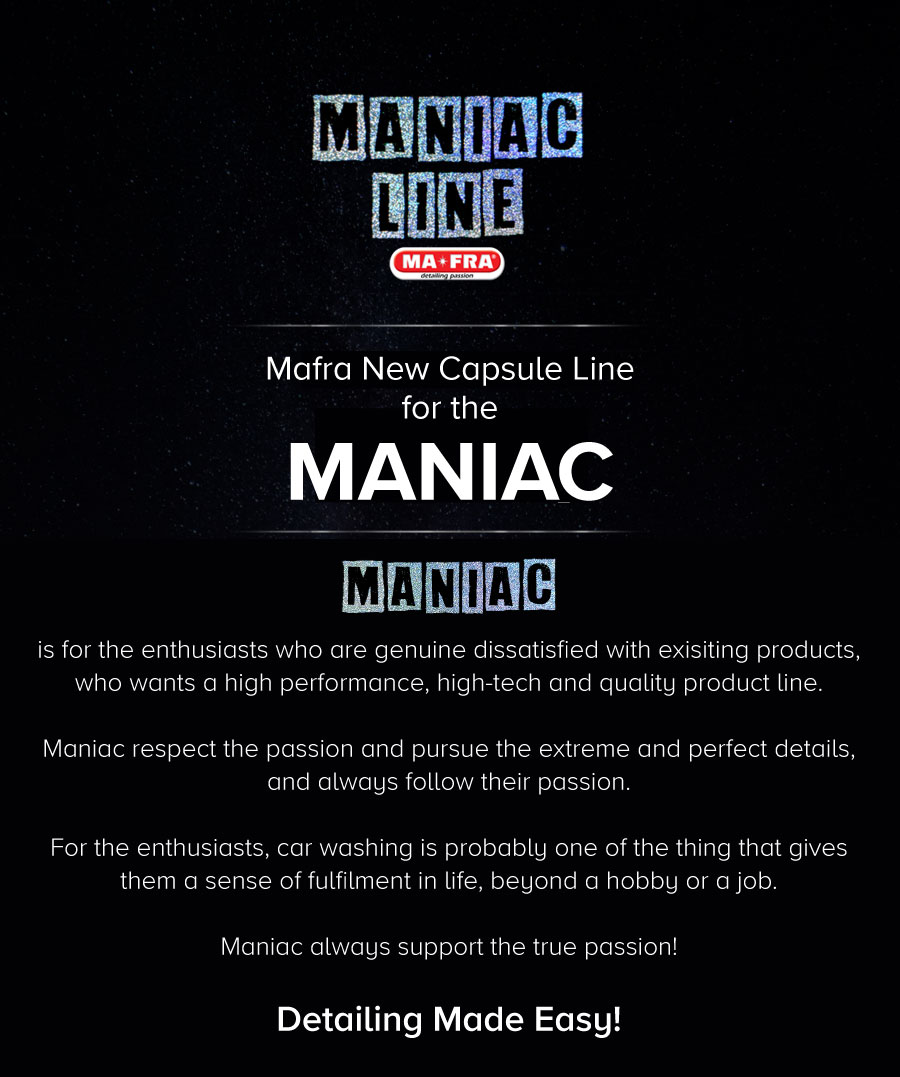 Product Introduction:
Iron Remover by Maniac Line ™ is the Mafra product to remove contamination found on the rims, bodywork and windows of the car . 
The product is characterized by a deep solvent and decontaminating action and a pleasant fragrance.
Its innovative formula is characterized by a particular active principle that reacts with the ferrous contaminating particles assuming the characteristic purplish color.
Ideal product for the decontamination of all steel and light alloy rims and also on chromed and polished rims for the removal of dirt that cannot be removed with other cleaning products for rims. Iron Remover can also be applied to the most delicate surfaces.
How To Use:
-Rims decontamination:
Apply the pure product in case of strong contamination;
Leave the product to act for about 3/4 minutes;
Help yourself with a brush , or a soft bristle brush to remove dirt in depth
Rinse thoroughly;
Wipe with a microfiber cloth.
-For a maintenance decontamination:
Dilute the product 1: 1  (1 part of product and 1 part of water);
Use the diluted product once every three washes;
- Body decontamination:
After washing and drying the car, dispense the pure product at a distance of 40cm
Leave to act for between 3 and 5 minutes
Rinse thoroughly
Recommendations:
Use the product only on cold surfaces and not exposed to the sun's rays.
Use the product in an open place and let it act for a few minutes, the tracer active ingredient will help you to perceive the action of the product: when the product takes on a dark purple color, it will be time to rinse with an abundant jet of water. Decontamination is an essential process if you want to apply on protective, as it promotes its adhesion.
WARNINGS:
Do not use on unpainted brake calipers as the active ingredient acts on the iron.
Do not dilute the product more than 1: 1.
VIDEO:
Payment & Security
Your payment information is processed securely. We do not store credit card details nor have access to your credit card information.